SHF #21 - Middle-of-Winter Lemon Sorbet
So it turns out that my aunt has a lemon tree in her garden. It also turns out that she has a lot of fruit on this tree at this time of year. So what does one do with 100 lemons?
Simple
, give them to me. Of course this poses a lot of problems, there are so many things to do with 50 fresh, organic lemons. I just had to decide what to make. Lemon curd, lemon tarts, lemon chicken, lemon
everything
! Then I was checking IMBB and noticed that this SHF is titled
Ice, Ice, Baby,
now who am I to say no when there are 2 great reasons in front of me to make lemon sorbet, so in the middle of the Australian winter I got out the Donvier Ice Cream maker and made some sorbet.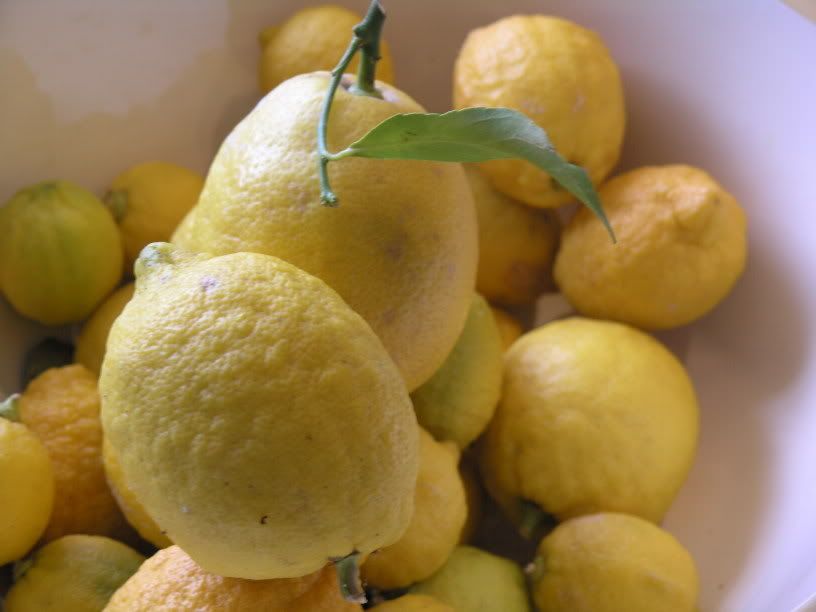 Those Lemons


This sorbet is very, very simple. So simple I'm not even going to write out the recipe I'll just tell you what to do. Prepare your ice cream maker. Make a simple syrup of 1 1/2 cups white sugar and 2 cups water. Bring to the boil for 1 minute. In a bowl, beat 1 egg white until frothy. Allow syrup to cool slightly and mix into the egg white. Add 3/4 cup fresh lemon juice and the finely chopped zest of 1 lemon to the mixture and stir. Chill this liquid and then process in your ice cream maker according to the manufacturer's instructions. Serve by itself or as I have with a
lemon and poppyseed cookie
.