What To Do With Cheese When There Are No Crackers?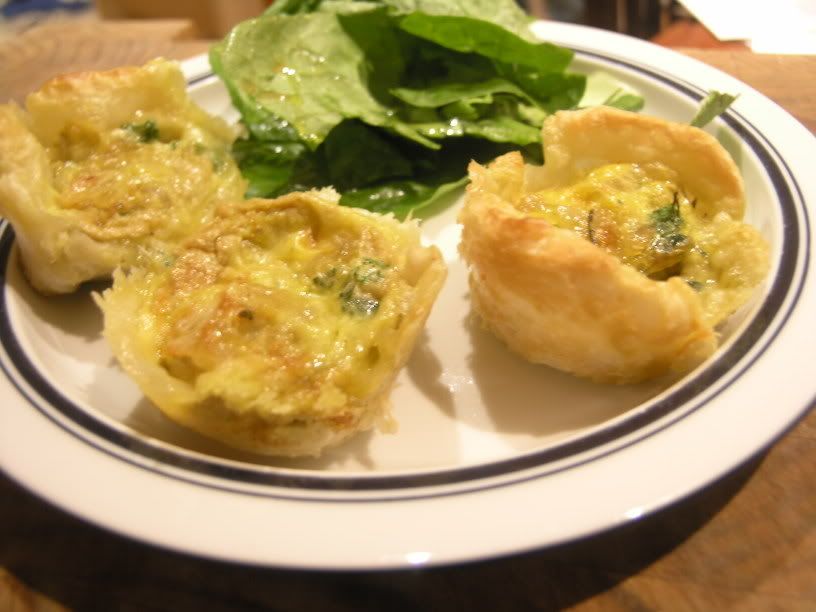 Herby Camembert Tartlets with Caramelised Onion
I was looking through our fridge and found a small round of camembert. Finding that there were no crackers to complete the impending dinner I was forced to find something else. That something else was a savoury take on a sweet favourite, Portuguese Custard Tarts. The result was nothing like the original except that it tastes great and uses the same crust. By using frozen puff pastry this can be made in under 30 minutes and makes a great, quick and tasty meal when paired with a light salad.

Herby Camembert Tartlets with Caramelised Onion
makes 12 tartlets
1 sheet frozen puff pastry
150 gm camembert cheese, chopped
1/3 cup cream
3 eggs
1 tbsp chives, fnely chopped
1 1/2 tbsp parsley, finely chopped
2 tsp rosemary, crushed with 1/2 tsp salt
carmelised onion (see below)
Preheat oven to 220 C (425 F).
Cut slightly thawed pastry into two halves. Place one on top of the other and roll into a short, fat log. Cut log into 12 rounds and roll out into 14cm (3.5") rounds.

Add crushed rosemary to cream and microwave for 30 seconds to infuse flavour. Beat into eggs.

Grease a 12 cup muffin pan. Place a round into each cup, it should reach part way up the sides. Place some cheese in each tart, split the herbs evenly between each tart and finally top off with egg mixture. Place a small amount of caramelised onion on top of each tart.

Bake until bubbly and egg is set. Allow to cool slightly on rack. Serve with a light salad or as an appetiser.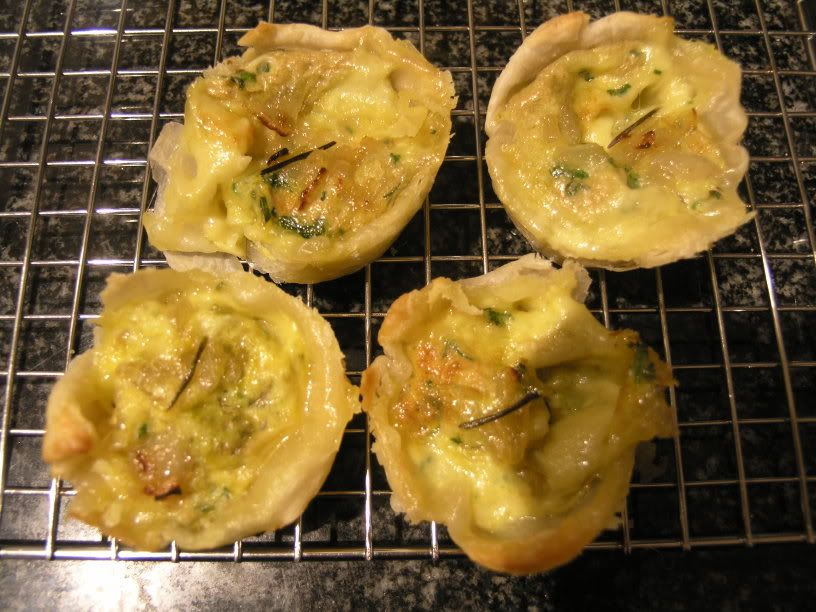 Carmelised Onion
1 medium onion, chopped
1 1/2 tbsp white sugar
2 tsp lemon juice
olive oil
Fry onion in olive oil over medium heat. When clear add sugar and allow to brown slightly. Add lemon juice and cook until golden brown. Cool.